–Dutch —
Vanavond de aftrap voor ons Nederlandse drieluik dit najaar.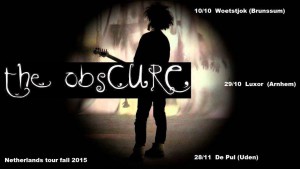 We startten in LIVECLUB WOETSTJOK waar we voor de tweede keer te gast zijn. Vorige keer was het daar een enorm leuke avond en we trachten daar vandaag een mooi vervolg aan te breien; we starten om 23 u voor een set van 2 uur Cure nummers.
Op donderdag 29 oktober staan we dan in het mooie LUXOR IN ARNHEM in Gelderland.
Een maand later op zaterdag 28 november doen we het nog eens over in een ander mooi poppodium, namelijk DE PUL IN UDEN
Drie optredens waar we enorm naar uitkijken.
–English–
Looking forward to perform again in the Netherlands tonight as a start of 3 concerts over there.
Kicking off in LIVECLUB WOETSTJOK for the second time this year and planning to continue the dancingparty we started over there a couple of months ago. We will play an over 2 hours set of Cure songs.
Thursday 29th October ze visit the beautiful venue of LUXOR IN ARNHEM .
One month later 28th November another great venue will have the chance to get to know the obsCURE:  DE PUL IN UDEN
Three shows we really look forward to.