– DUTCH —
Aangezien we nog niet zo lang bezig zijn, nog geen twee jaar op dit moment, hebben we het geluk dat we nog veel nieuwe dingen mogen meemaken. Donderdag 21 juli Nationale Feestdag en dit mochten we samen met de verjaardag van onze vaste geluidsman Tom vieren in Waals-Brabant. Voor de eerste keer richting Wallonie dus en dit op het dorpsplein van Bourgeois, Rixensart. Een prachtig podium stond op ons te wachten, ons grootste en hoogste podium tot nu toe en het dorpsplein was ver tot voorbij de PA-tent gevuld. Geen idee hoeveel volk er was, maar het zal wel voorbij de 3000-4000 geweest zijn. Stress omdat we onze set exact moesten afklokken om 23.15 u omdat dan het vuurwerk zou plaatsvinden. Dus begonnen we maar iets vroeger dan gepland. We waren onder de indruk van het volk, de organisatie, de enthousiaste medewerkers backstage en zoveel feedback tussen de songs dat we in ons enthousiasme misschien iets voor op schema zaten, maar we hadden er zin in en uiteindelijk hebben we toch bijna twee uur gespeeld voor deze fantastische Walen (en Vlamingen ook natuurlijk). Na een lange versie van A Forest zat het er dan op en mocht het vuurwerk van start gaan. De adrenaline heeft nog even nagezinderd bij ons, maar voor ons was dit alweer een fantastische ervaring en dus voor herhaling vatbaar. Tot onze verrassing was er een journalist van de muzieksite ConcertMonkey aanwezig die ons een prachtige review gaf (thnks Michel Preumont): na te lezen in het frans door te klikken op deze link, vertaald in het engels onderaan dit artikel. Thnks Bourgeois, Rixensart, thnks aan de organisatie en de medewerkers backstage en ook de vele fotografen voor de mooie foto's.
Hierbij de link naar de foto's van die avond. http://gallery.theobscure.be/#!album-17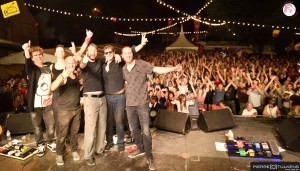 — ENGLISH–
As we still are in our second year of this band, we are lucky that almost every new gig is a special experience. Thursday 21th July and Belgian National Holiday and our soundguy Tom his birthday: what a celebration and this for the first time in the french speaking part of Belgium in the village Bourgeois, Rixensart. A beautiful stage, the biggest one we played thus far, was waiting for us and when we started the area was filled up to the back with people (about 3000-4000 is the estimation). We had a little bit of stress because we needed to finish our set exactly at 23.15 hrs for the big fireworks so we started a little earlier than planned. Impressed by the crowd, the organization, the stage, the enthusiasm of all the loyal backstage people, we finished our set too early and then decided to do some extra songs because we and the crowd were having so much fun. In the end we played about 2 hrs and after a long version of 'A Forest' it was time to thank the fantastic crowd and watch the fireworks. The Adrenaline remained a bit with us and we hope to be able to repeat an experience like this in the near future and also to be able to go back to La Wallonie. To our big surprise there was a journalist of the site ConcertMonkey and we got a great review (thank you Michel Preumont): you can find the article here in French but we did translate it in English below. Thnks Bourgeois, Rixensart, thnks to the organisation, the photographers for the pictures and the crew backstage.
The link to a selection of the photos taken this night can be found here: http://gallery.theobscure.be/#!album-17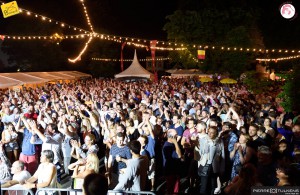 Translation of the review:
First time in Wallonia for this flemish tribute band of The Cure, considered by many as the best group covering the repertoire of Robert Smith's band.
The Obscure has already conquered Flanders, Holland and Germany, tonight they impressed Rixensart. The place, which was crowded with a couple of thousands, gave them a well deserved success after a show of well more than 90 minutes which in all aspects was fantastic!
Drummer Richard Scheeper, guitarists Roel Vekeman and Wim Kempenaers, bassplayer Benj, the keyboard player Steph Van Uytvanck and Robert lookalike Dirk Vreys on vocals, have of course adopted black as the stage outfit and begin the show by 'Shake Dog Shake' of 1984.
We did not notice any dogs, but when Dirk began his shake, shake, shake, his screams shook throughout Wallonia.
The spirit of the Cure was there from the start and it did not leave during the entire show.
The guitarists are grinding their instruments in the characteristic style of the post-punk, the bass purrs, keyboards and drums lining a hypnotic background and Dirk screaming it all like the barking mad dog.
The people of Bourgeois, Rixensart  are perplexed.
The long intro to 'Push' before the Go Go Go's have always their little effect and afterwards they offer us the single 'Charlotte Sometimes'.
Next one is the poppy 'Just Like Heaven' and Dirk makes the effort to introduce some songs in French attracting the sympathy of all. It should also be noted that quite some fans from Flanders moved this evening to Rixensart to see them as well.
They continue with an extract of debutlp "Three Imaginary Boys", '10:15 Saturday Night' which Robert Smith wrote at the age of 16.
"Wanna jump, Rixensart?"
'Play for Today', and his freakish bass, fires up the audience, 'Jumping on someone else's train' has always been one of our favorites, but there's Josette in her wheelchair in the frontrow, too drunk, who dares to turn her cart and crushing the feet of the whole neighborhood, while shaking her sparkling cut over her pants, giving the impression that she peed in it, which cools down our enthusiasm a little bit.
"Hands in the air, Rixensart, we're Taking 'Pictures of You'."
A new invitation, 'Let's go to bed', you forgot your pajamas because you remained frontstage; then they start 'Disintegration', dedicated to the real Cure fans.
The desperate 'One hundred years' getting more and more actual these days and very close to the current events going on in the world.
After this monument of despair the obsCURE offers 'A Strange Day', another classic gothic rock song from "Pornography".
 The group continues its game of leapfrog from one Cure era to another without weakening: 'Fascination Street', 1989, precedes 'Primary' of 1981.
"I hope the next one will not scare the kids", the frontman launches before starting 'Lullaby'.
No spiders, no nightmares, everthing goes well; 'Lovesong' and 'In Between Days' follow and bring delight.
'Boys Do not Cry' triggers enthusiasm that will not fade anymore with the last two songs 'Friday I'm in Love' and 'Never enough'.
After a monstruous ovation, they are pushed again on stage and give four call backs: 'Why can't I be you ',' The Walk ',' Close to me 'and the inevitable' A Forest '.
What did you sing Eddie (Cochran)?:
There is no cure for the summertime blues but no one suffered from any summertime blues in Rixensart, the concert of the obsCURE was a huge hit!
Michel Preumont for Newsmonkey.