–Dutch —
artikel in GVA en Het Nieuwsblad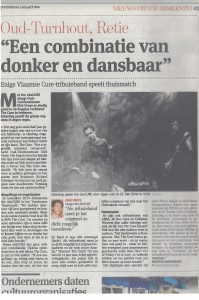 – English translation –
"A Combination of dark and danceable"
Tribute band the obsCURE succeeds to imitate the Cure so well that it sometimes gets creepy.
This Saturday they play in their homeregion.
Not even one and a half year ago it started with a try-out of half an hour and today it already has grown into an international tribute to legend Robert Smith and his band the Cure.
Singer Dirk Vreys tells about it. "Actually when the idea started to kick off with this band it was just the intention to start a band and do some Cure songs. It was not immediately the idea that it would grow into something like this. It all started when my oldest son was looking for friends to make some music and they did not find a singer. So I sang a couple of songs at their rehearsal and one of them was "A Forest" and got recorded in the studio. This recording was picked up by my friend Richard Scheeper and we decided to start a band. We found the rest of the band members via the internet and did not meet until the first rehearsal. Today we are with 6 on stage.
Make-Up and Eye Shadow
In November 2014 the obscure made his debut in Turnhout at a new wave Party. "We only rehearsed about five times and played 8 songs that evening.  After the first rehearsal it already sounded for 85% as the Cure . Reactions after the shows are sometimes too good for words but if you succeeded to convince diehard Cure fans and they like what you are doing, then I guess it is Mission Accomplished."
Don't think about the obsCURE as just a coverband bringing Curesongs. When they play live you really do hear The Cure in music and voice. "I bring on some make-up, the hair needs to be done as well, the clothes need to be similar. Our bassplayer also has a lot of the real Simon Gallup in how he looks. The rest of the band still needs a little push (laughs).   As a tributeband you need to get as close as possible not only in sound but also in looks so it is part of the job to try to look this way."
Why The Cure?  "I'm fan since I was 14 years of age and it is my favourite band since then. As teenager I listened to it 90 pct of the time. I sang in my room and even translated a lot of their songs in dutch at the time."
Dancemusic?
Nowadays there are tributes of Abba , Bee Gees, Coldplay. Why choose for the sad music of the Cure?
Dirk sighs a bit before answering: "I think it is a bit of a wrong image. Yes The Cure was Gothic, New Wave – and they were damn good at it – but they also have a lot of poppy songs like Boys Don't Cry, Friday I'm in Love,….   Last summer we made the crowd dance to our music for 2 hours. So the Cure is danceable."
Last year the obsCURE played in Belgium and Holland with highlights a national radio recording at JOEfm and a gig in the famous CHARLATAN in GHENT.
This Saturday is the first time since their try-out that they again play in our province of Antwerp. This in GC Den Dries in Retie. This concert includes eightiesicon ANNE CLARK and is already sold-out for 800 people.  "We play as afterparty on this newwave evening so we made our set a combination of dark, wavy and danceable".  In september we play again in this region as headliner of DAXrock in Turnhout.